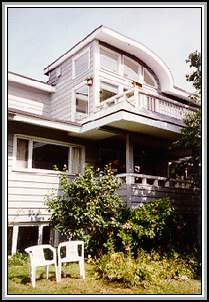 1401 West 13th Avenue, Anchorage, Alaska 99501
Phone: 907-278-9275, FAX: 907 279-9282
E-mail: asweethome@gci.net
Recommended by Frommer's as an "exceptional downtown B&B", this historic anchorage bed and breakfast is walking distance to the ocean, downtown shops, and tourist attractions. Founded in 1988, built in 1958, it withstood the Great Earthquake of 1964. This stately home was remodeled in 1988 for solar by nationally renowned architect Roger Dalyrymple, and by Crittenden-Crombie in 1998.
Nestled behind huge spruce trees, this eco-friendly home-stay B&B provides a flowered summer meadow for birds, butterflies and small Alaskan critters; and a winter "safe-haven" meadow for moose. A mini-farm of apples-cherries-raspberries-rhubarb-currants and strawberries tempt birds, moose and the family of friends who visit. Enjoy a walk to Delaney park tennis courts and festivals, watch ducks in the sunset at Westchester Lagoon, or ski/run the Coastal Trail.